Welcome to Meade Skelton Music
Recent items of interest:
December 17, 2009
My TV appearance has been cancelled and will be rescheduled for a later date. Thanks!
December 10, 2009
Samples of "From the Outside Looking In" and "Sweet Tea" are available for preview on the music page.
December 6, 2009
As many of you know, the December 4th event was cancelled due to inclement weather.
Your vendor fee, if you have prepaid for December, will be applied to the first market you attend in 2010.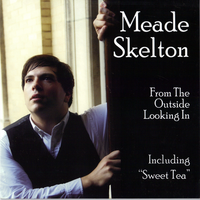 October 27, 2009
Alternative Country Pop singer Meade Skelton, releases his latest single "From The Outside Looking In", paired with everyone's favorite drink "Sweet Tea". Meade will be performing Saturday, November 14th, for a record single release party with the Meadow Street Band. Included will be a whole slew of his most requested songs including "Hipsters Ruin Everything", "We Talk In Circles", and that Southern Anthem "Sweet Tea". Meade's records will be available for sale on both 7" vinyl and compact disc, and will be available for purchase at the show. The show is free. So sit back and enjoy some Meade!
Where: Tabernacle Baptist Church 1925 Grove Ave Richmond VA (Fellowship Hall)
When: Saturday, November 14th, 8 -10 PM
Price: Free
October 22, 2009
Hi. Just to let you know that the farmers market gig on Sat 10/24 has been cancelled due to the forecast of t-storms.
Thanks
M.